Capodistrias Museum - Centre of Capodistrian Studies
The only museum dedicated to Ioannis Capodistrias, first Governor of Greece and distinguished European statesman, is located in his homeland, Corfu.
The Museum is housed in "Koukouritsa" one of the Capodistrias' family country estates, where Ioannis Capodistrias spent some years as a young man.
The Museum offers its visitors a unique opportunity to discover the history of Corfu, Europe in the early 19th century and of the modern Greek State. The permanent exhibition unfolds throughout the building, presenting historic exhibits such as medallions, books, maps, religious icons, memorabilia that Ioannis Capodistrias acquired during his career in the service of Czar Alexander I, period furniture as well as a digital archive, with a collection of archival material from libraries and archives from all over Europe, pertaining to Capodistrias' life and achievements.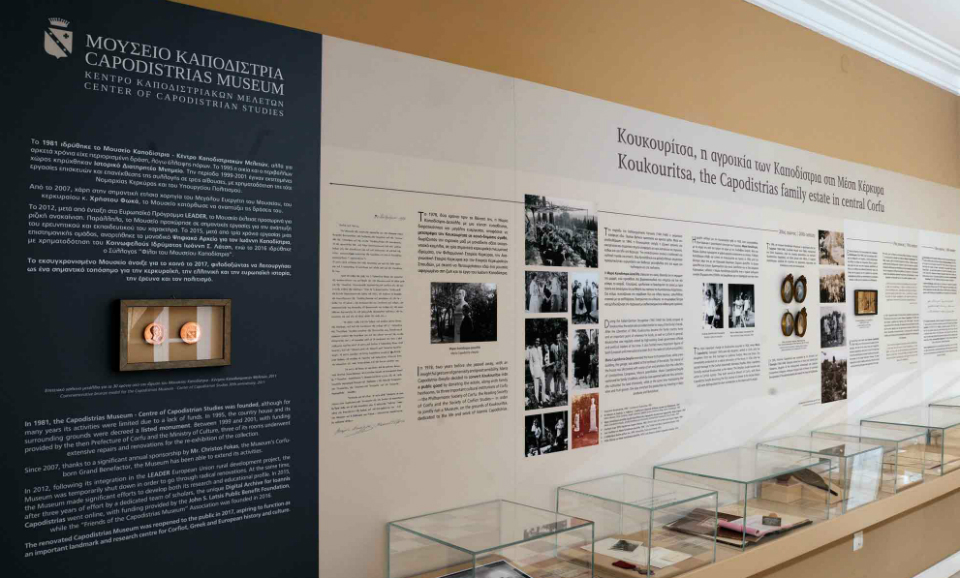 The Gardens
The museum is situated within luscious gardens overlooking the sea, the mountains of Epirus and Corfu town. The garden hosts a great variety of endemic plants, turning the surrounding landscape into the perfect frame for the historic country house of the Capodistrias family. During the summer months, the museum gardens host cultural events.
Planning your visit
Opening hours: From March till November the Museum is open daily 10:00 - 16:00 (closed on Mondays and on official Holidays).
The museum offers all visitors the use of an audio guide, available in four languages: english, french, russian and greek.
For ticket prices and special services, please check the website www.capodistriasmuseum.com/en/visit
How to get here
The Museum is just 7km away from Corfu Town, near the village "Evropouli".
Find us on Google Maps: https://goo.gl/maps/4eTsmfsr1sB2
by private vehicle: Take the Paleokastritsa National Rd, turn off towards "Hospital" or "Potamos" and follow the signage for "Evropouli"
by city bus: Line 4, "Koukouritsa" stop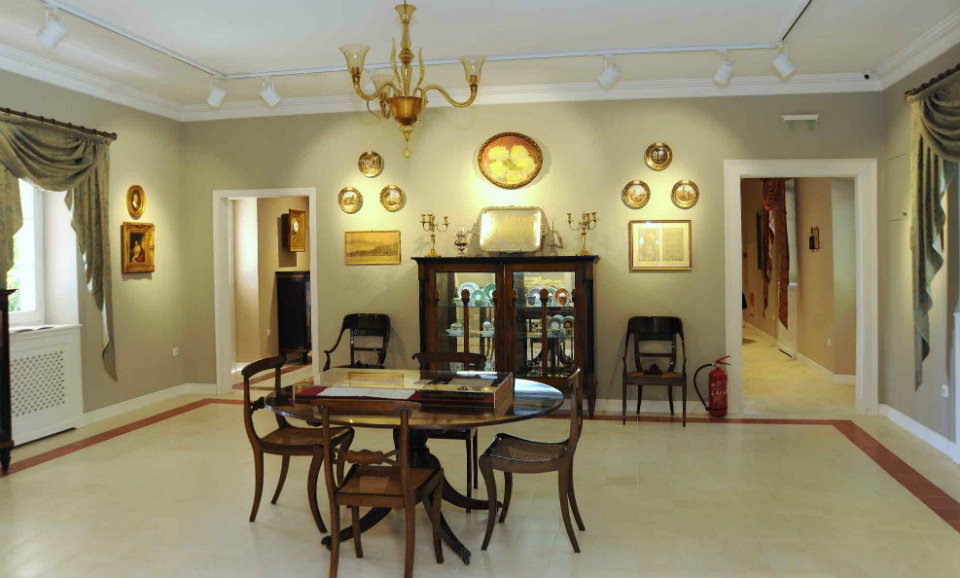 For more information
Check the website www.capodistriasmuseum.gr and for our news & events, follow us on facebook at Capodistrias Museum
Capodistrias Museum - Centre of Capodistrian Studies
Koukouritsa Evropouli Corfu
tel: +30 26610 32440
email: [email protected]